The beef industry is a vital portion of the agricultural industry, and Farmers Coop Society is proud to be able to celebrate one of our many excellent beef producers, Jeremy Jansen. Jeremy and his family currently live outside of Sioux Center. Jeremy and his wife, Jennifer, have a son, Riley, and daughter, Reagan. Riley is currently a student at Iowa State University studying animal science, and his daughter, Reagan, will be starting at Augustana University in Sioux Falls, SD this fall. Along with his family, Jeremy operates a cow-calf operation on a Century Farm. He began his show cattle operation 30 years ago as an FFA project.
Jeremy graduated from South Dakota State University with a degree in Animal Science. After graduation, he started working at the Coop Confinement Feedlot. Jeremy has been able to advance his career over the years and is a Feedlot Manager for Bar K Cattle. Jeremy's career has served him well and given him the opportunity to continue to grow his own herd.
Jeremy is constantly striving to grow and do business better; this results in him being a leader in his industry. He is a very progressive producer, utilizing the services provided by Trans Ova. Through partnering with Trans Ova, Jeremy has been able to improve his practices through IVF and embryo transfer. Technology is ever evolving, and Jeremy sees the importance of looking ahead for the next industry changing technology.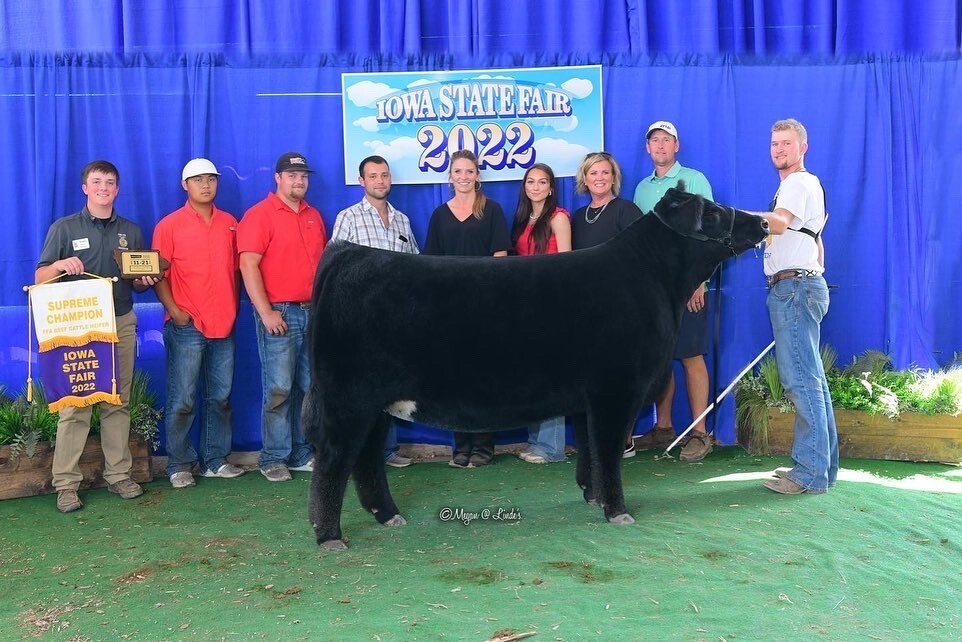 Farmers Coop Society is proud to partner with Jeremy on his journey to find the best technology, including feed, for his operation. Jeremy worked closely with the Farmers Coop Society's Feed division to develop a bulking product for his operation. He described the process of developing this feed as a team effort. The team would develop a feed formula; then Jeremy would test the feed on his cattle, where he paid attention to how the cattle were consuming the feed and how it was affecting them. He then provided the FCS feed team with detailed feedback and suggestions. This was a process that took place over several months, until they were able to establish a bulking feed that worked.
The beef industry provides several unique opportunities. It's also a great way to add to and utilize the land. Jeremy discusses how pasture is an excellent way to utilize and preserve ground that is not well suited for crop ground. Beyond persevering ground, "I think there's a lot of opportunity in the beef industry, whether you're looking at the general labor side or whether you want to be in meat technologies at the packing plant level. There's a shortage of workers all over the place, and that creates opportunities for people that want to work in the beef industry" (Jeremy). Jeremy continued to discuss how the beef industry is a great place for people who are just starting out in their career.
Jeremy also expressed the level of pride that being involved in the industry brings and the way that it has brought fulfillment into his life. "My favorite part of farming is this time of year, when we turn the cows and calves out on grass, and they just jump and kick and enjoy life. I love seeing the baby calves play and be healthy" (Jeremy). Farming truly is more than an occupation, it's a way of life.
The beef industry plays a crucial role to the agricultural industry as a whole. Thank you to all of our beef producers who continue to create growth within the community.